Canon Vixia HF G70 UHD 4K Camcorder MP4 Camera: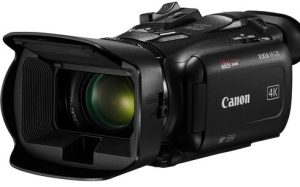 Record high-resolution 4K video with the compact, black Canon Vixia HF G70 4K Camcorder. The G70 features the same form factor and many of the great specs of the G50, including a 1/2.3″ UHD 4K CMOS sensor, a DIGIC DV 6 image processor, an 8-blade circular
Panasonic HC-X1 Ultra HD 4K Professional Camcorder: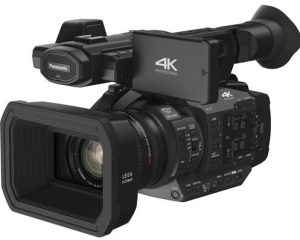 Professional Camcorder. Featuring a large 1″ type 4K sensor, the HC-X1 is capable of recording video in DCI (4096 x 2160) as well as UHD (3840 x 2160) 4K resolutions. You can also record 1080p in VFR (variable frame rate) in 10 increments from 2 to 60 fps as well as record HD video in a super-slow-motion mode at a frame rate of up to 120 fps.
Blackmagic Design Video Assist 3G-SDI/HDMI 5" Recorder/Monitor: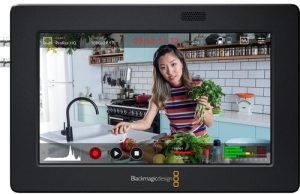 Professional monitoring and high-quality recording to your camera with the Video Assist 3G-SDI/HDMI 5″ Recording Monitor from Blackmagic Design. It features a bright 5″ 1920 x 1080 display with 300 cd/m² brightness to help you frame and focus your shots, and it provides 3G-SDI and HDMI inputs for recording the video output from professional and consumer cameras. You can monitor and record video resolutions up to 1080p60 10-bit 4:2:2 and up to 16 channels of embedded 24-bit 48 kHz audio. Firmware update 3.3.1 adds a video output via the USB Type-C port that can be used to convert your connected camera for webcam use. It also enables you to select channels for audio monitoring
Zoom LiveTrak L-8 Portable 8-Channel Digital Mixer and Multitrack Recorder: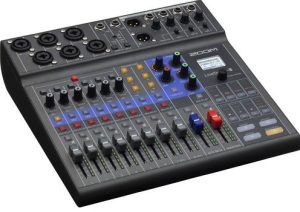 The Zoom LiveTrak L-8 digital mixer and recorder puts the flexibility of Zoom's popular LiveTrak L-Series range in a compact and portable format that's optimized for podcasting and music production on the go. The LiveTrak L-8 provides tactile controls and intuitive functionality, so you can start a podcasting or music recording session in minutes.
With six mic preamps, four independent headphone outputs, a phone tap for call-in interviews, and six sound pads, the LiveTrak L-8 can easily handle roundtable podcasts or tracking multiple musicians. Since it can be operated on AA batteries or a USB power supply, it can join you no matter where you go to record.
Whether you record to an SD card, stream via USB to a computer or iOS mobile device, or do both at the same time, the LiveTrak L-8 gives you up to 12 channels of simultaneous multitrack recording.
Audio Interface Mixer G-MARK MR80S: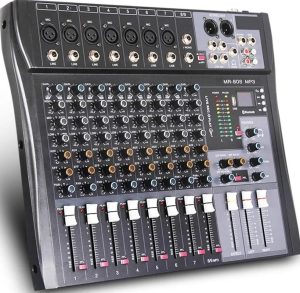 9 Channel DJ Mixer: The mixer is great for multiple devices connectivity because it has 9 channels, 7 XLR microphone and 1/4'' input each channel. 1 pairs 1/4'' mono + stereo Bluetooth Mixer This portable 9 channel DJ mixer has Bluetooth for wireless streaming and use it as an input to mix signal with other input channels. It works with PC, Phone, Tablet and MP3 Player RECORD AND CONNECT TO PC: This portable audio mixer has a USB soundcard and audio interface to record and connect to MAC or PC and it has universal audio file compatibility. High Accurate Led Lights and Power Supply: Delicate LED peak level indicator, and ultra-musical 3 band EQ on all channels; For reliable power source, this audio interface mixer comes with a +48V Phantom power supply. Ultra-thin and Rugged Chassis: With only 1.6 inches thin design, sealed rotary controls to resist dust, great experience of touching to use this pc audio mixer. This compact mixer provides total dynamic control, is great for high quality on stage performance, premium quality crystal clear studio level quality audio playback.
Audio-Technica Pro 70 Cardioid Lavalier Microphone: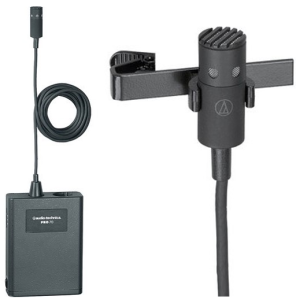 The Audio-Technica Pro 70 is a cardioid lavalier microphone designed for vocal or instrument capturing in recording or sound reinforcement applications. The frequency response favors the mid-range frequencies of instruments and vocals while minimizing noise registering at high and low frequencies. The cardioid polar pattern is effective in minimizing pickup at the off-axis sections of the microphone capsule. The result is improved signal before feedback response and minimal ambiance pickup. A low frequency roll-off switch further reduces low frequency noise due to hum, wind etc. The provided UM3 power supply provides phantom power with a single 1.5V AA battery or external phantom power source. The UM3 provides a standard 3-pin XLR output connection to mixers, preamplifiers, cameras etc.
Shure CVB-B/O Centraverse Omnidirectional Boundary Condenser Microphone: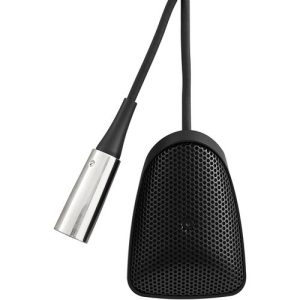 The black Shure CVB-B/O is a Centraverse Series omnidirectional boundary condenser microphone designed to provide an optimized-for-speech frequency response and discreet desktop installation for presenters and speakers in conference rooms, corporate events, houses of worship, and meetings. The low-profile microphone features CommShield technology to reject RF interference and an attached 12' XLR cable for compatibility with most mic preamps. The omnidirectional condenser element yields a frequency response of 70 Hz to 16 kHz, which naturally attenuates low frequencies that are often produced by vibration and rumble. It is powered by 11 to 52 VDC phantom power.
Manfrotto MVH500A Fluid Drag Video Head with MVT502AM Tripod: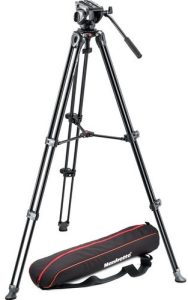 Manfrotto MVH500A Fluid Drag Video Head with MVT502AM Tripod and Carry Bag features a fluid head with a wide platform to support the HDSLR form factor, and a 60mm half ball for quick leveling without adjusting the legs. The head supports a maximum weight load of 17.6 pounds and has a built-in, pre-set spring-loaded counterbalance of 5.3 pounds. It features a tilt range of -70°/+90° and provides a panning rotation of 360°. The head also features a side lock system for the sliding quick release plate, a pan handle, and an integrated bubble level.
The two-stage tripod features a 75mm bowl and includes a 75 to 60mm adapter for the MVH500A head. The legs are individually adjustable and feature a mid-level spreader for stability on uneven ground. The minimum height of the tripod and head is just over two feet, for getting low angle shots, and the maximum height is just over five feet. The legs feature non-removable feet suitable for exteriors and interiors, and are gentle on delicate floors.
Manfrotto Vintage Reversible Collapsible Background 5 x 7':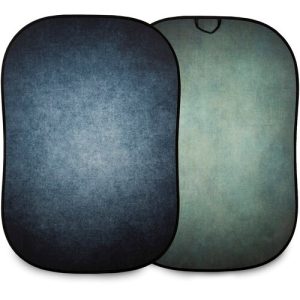 Ideal for portraits, fashion, beauty, weddings, and special events, the Ink/Sage 5 x 7′ Reversible Collapsible Vintage Background from Manfrotto imparts your images with a classic, timeless quality that will complement your subject now and into the future. The background can be used in a vertical or horizontal orientation and conveniently folds down to 1/3 of its open size for transport to your location. This Ink/Sage background features a hand-painted-type, textured surface with graduated deep and light blue tones set off by a dramatic vignette evoking a pallet of colors such as new denim or deep water. The reverse surface is an earthy green with a weathered texture design with subtle hints of patina-like contrast.
Angler Collapsible Background Kit (5 x 7', Chroma Blue/Green):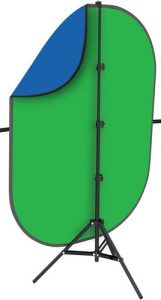 Expand your photographic creativity with this Chroma blue/green Angler 5 x 7′ Collapsible Background Kit put together by B&H. The kit includes a two-color crease-resistant fabric background, an Impact air-cushioned 8′ light stand, and an Impact collapsible reflector holder. Photographers will appreciate being able to easily position the background with the stand and holder. The background pops open quickly and easily, collapses to 1/3 open size for storage, and includes a zippered fabric storage bag.
Furman PST-8 Power Station Home Theater Power Conditioner & Surge Protector - 8 Outlets, 2 Coax Pairs & Phone Line Protection:
The Furman PST-8 Digital Power Station features Furman's SMP circuitry which incorporates Linear Filtering Technology (LiFT) and a high current TVZ-MOV to insure that any electronic device (e.g. television, projector, CD-DVD player, computer, etc.) is fed clean, filtered AC power. This dramatically reduces noise, ensuring consistent peak performance from all equipment. Furman's proprietary Linear Filtering Technology (LiFT) suppresses AC noise evenly, assuring maximum performance from your system. SMP circuitry offers the highest degree of protection against electrical surges and spikes, and does this without sacrificing itself or any of its components. In addition, the Extreme Voltage Shutdown circuit automatically turns off the unit when it is fed 137 volts or higher, protecting itself and connected equipment from the extreme voltage.